Thank you for your time and commitment supporting Lifeline Text and those in Australia experiencing emotional distress and may be at risk of suicide.
Our vision is to offer a National 24/7 Text Service to the Australian community.
Our help seekers contact us for various issues including suicide and suicidal behaviours, loss and grief, relationship issues, domestic and family violence, child protection, sexual assault, mental health problems, family-related issues, addiction, health and disability, loneliness and isolation, for referrals to community services and support.
Lifeline Text Crisis Support Training will equip and train you to become a Volunteer Crisis Supporter, with the skills and knowledge to provide short-term support to people in crisis when they text us with these and/or other issues as well as increasing safety when thoughts of suicide are present including providing pathways to further care and support, as necessary. According to our research,
88% of people prefer text-based communication over verbal telephone calls
Help seekers reported a high level of satisfaction with Lifeline Text, with privacy, convenience and sense of control the service offered being most valued
Statistically significant reductions in levels of distress, increases in ratings of connectedness and an improved sense of confidence in their ability to cope
See below Lifeline Text Training Information and Upcoming Lifeline Text Training Dates. We are delighted you are considering training and volunteering for Lifeline Text.
Lifeline Text Training Information
Here is some important information for you to consider regarding your time and commitment to the Lifeline Text Training Program, below is the expected hours required for eLearning, webinars, assessments, crisis support practice, supervision, professional development etc.
Please be aware, that in the near future, Lifeline Australia will by asking for payment for the Text Training Program.  More information will become available once we have finalised these arrangements.
Lifeline Text Training – Stage 1 and 2
Stage 1 Training – 6 weeks
Study Break – 1 week
Stage 2 Placement – Up to 8 weeks
Lifeline Text Training – Stage 3
Up to 75 hours in the first 6 months
Including crisis support, group supervision and professional development and other activities
Lifeline Text Crisis Support - Ongoing
CRISIS SUPPORT
Minimum Suggested Requirements (Per Year)
3.5 logged in hours per week
150 logged in hours per year
4 x Professional Development
4 x Group Supervision
2 x Interactions (Reviewed against Interaction Form)
If completing over 150 hours per year, you may be required to do additional activities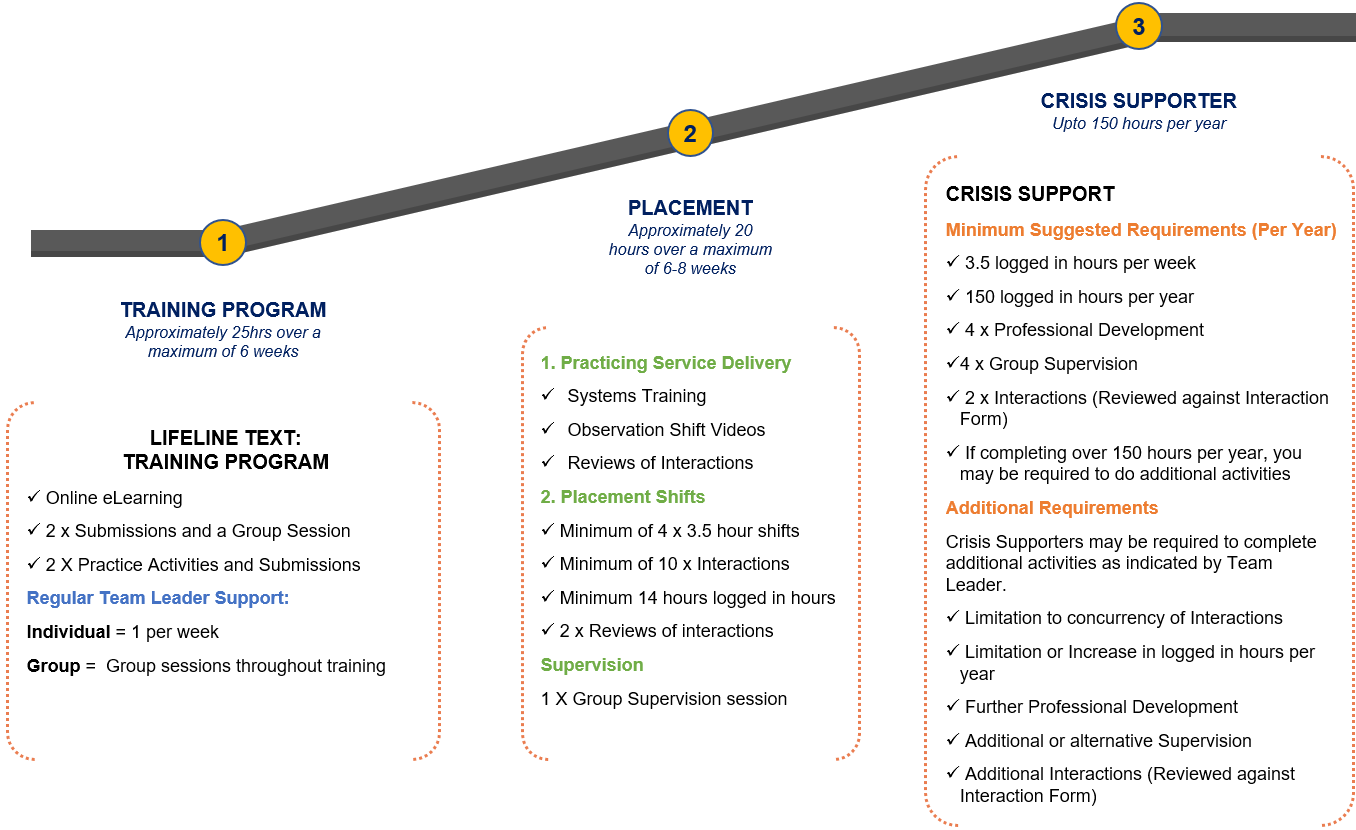 For more detailed information, check out Volunteer CS Lifeline Text Training.
Upcoming Lifeline Text Training Dates
JULY 5, 2021 to OCTOBER 17, 2021
AUGUST 2, 2021 to NOVEMBER 14, 2021
SEPTEMBER 6, 2021 to DECEMBER 19, 2021
OCTOBER 4, 2021 to JANUARY 16, 2022
For specific training stage timelines, see Volunteer Cohort Dates.
Frequently Asked Questions
Please apply for the role by going to the Volunteer Recruitment Portal.
Please read through the frequently asked questions below, in order to successfully complete and submit your volunteer application for the Text Crisis Supporter role.
You will need to apply using the link Volunteer Recruitment Portal. You will firstly need to register your details and then you will receive an email to activate your account by clicking a link in the email.

You will then be able to start your volunteer application by clicking the yellow button, Online Volunteer Application Form.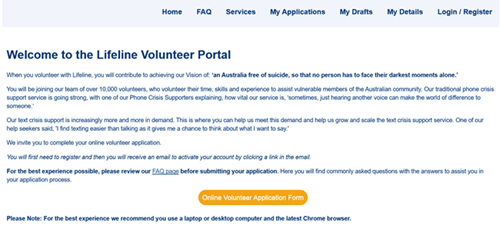 Once you have completed your application, please be sure to click the submit button on the summary page at the end of the application process. This will ensure we receive your application form and we are able to review it. If you do not click the submit button, your application will remain unsubmitted.

You can save your application and come back to it later, by clicking the save button at the top of the screen. When you login to the volunteer recruitment portal again, your application will be saved in the My Drafts section. Click on this application to continue with this application and submit this application Do not start a new application for the same volunteer role, as this creates duplicates in our system.

Please ensure you complete your police check through this online recruitment process. The link to our police check provider, Fit2Work is in the Police Check section. We require the most up to date police check so therefore, we will not be accepting police checks previously completed elsewhere.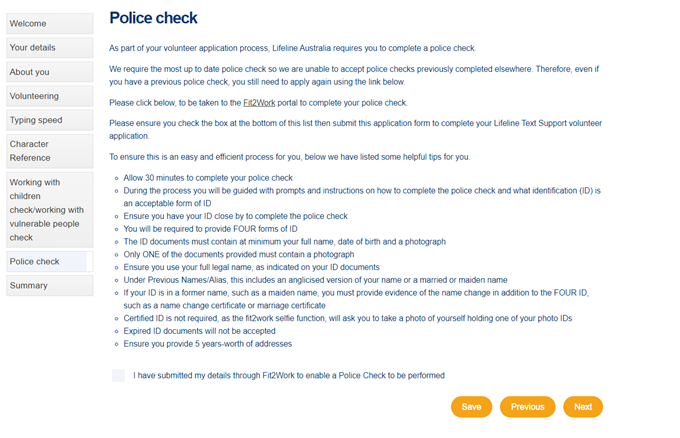 Please ensure you check your spam or junk folder, in order not to miss any vital communication from Lifeline.
Come and join the Lifeline family.