Make a difference - Join Lifeline
About Lifeline Digital Services:
We offer a national 24/7 Text (SMS) and Online Chat Service to the Australian community.
What do Volunteer Digital Crisis Supporters do?
Volunteer Crisis Supporters provide short-term support to people in crisis when they text us with various issues. These include: suicide and suicidal behaviours, loss and grief, relationship issues, domestic and family violence, child protection, sexual assault, mental health problems, family-related issues, addiction, health and disability, loneliness and isolation, and referrals to community services and support.
Learn more about the role of Volunteer Crisis Supporter by watching the video below.
Volunteer Information Sessions
Want to find out more about becoming a Digital Crisis Supporter?
Come and join one of our Volunteer Information Sessions:
Tuesday 12th July 1-2pm (AEST) Register
Friday 29th July, 11am-12pm (AEST) Register
Wednesday 17th Aug, 3-4pm (AEST) Register
Tuesday 6th Sept, 5-6pm (AEST) Register 
What do we look for in our Volunteers?
As a digital Crisis Supporter, you should have:
An ability to connect with people of all ages, cultures and backgrounds
A minimum typing speed of 38 WPM with 90% accuracy
Good computer skills
Strong verbal and written English communication skills
A willingness to accept feedback and to respond reflectively
Emotional resilience & good self-care strategies.
What training is involved?
Our Lifeline Digital Training Program will equip you with the skills and knowledge you need to respond to help seekers, increasing safety when thoughts of suicide are present and providing pathways to further care and support, as necessary.
Being a Volunteer Crisis Supporter is an extremely rewarding but also challenging experience so take a moment to consider your capacity to commit and how our Lifeline Digital Training Program will fit into your professional and personal life. The self-paced training will take you 4.2 hours per week for up to 12 weeks and include eLearning, webinars, assessments, crisis support practice, supervision, and professional development. Once training is completed, you are committing to a minimum of 4 hours per week. Please note that both, the training as well as regular volunteer shifts, are delivered remotely, from the comfort of your own home.
Lifeline Digital Training Program for volunteer crisis supporters starts weekly (every Monday). Once we have processed your application and you have been offered a volunteer role and accepted your offer, we will book you into the next available training program.
Crisis Supporter Pathway
Make a difference - Join Lifeline
Frequently Asked Questions
Being a Crisis Supporter is not for everyone.
Before you apply, please consider your ability to commit to our comprehensive training program and ongoing weekly shifts (see above). In addition, we want to make sure you know about the nature of Lifeline, the nature of interactions with Help Seekers, as well as the reality of remote volunteering prior to submitting an application. 
You will be assigned a Team Leader who will coach you throughout your training, placement and even once you are a fully trained Crisis Supporter. In addition, you will never be alone while on shift, as one of our qualified In-Shift Supervisors will be there to ask questions, intervene where necessary and debrief with you when you finish your shift.
Make sure you understand the commitment involved in becoming a Crisis Supporter
Attend an information session
Complete and submit your application (you will be asked to provide reference details, a Working with Children/ Vulnerable People Check and a Lifeline Police Check. Note that these checks are at your own cost).
Accept our offer to join the Lifeline family.
Join the next available training date (we will notify you of the date once you have accepted your offer)
Please apply for the role by going to the Volunteer Recruitment Portal.
Please read through the frequently asked questions below, in order to successfully complete and submit your volunteer application for the Digital Crisis Supporter role.
You will need to apply using the link Volunteer Recruitment Portal. You will firstly need to register your details and then you will receive an email to activate your account by clicking a link in the email.

You will then be able to start your volunteer application by clicking the yellow button, Online Volunteer Application Form.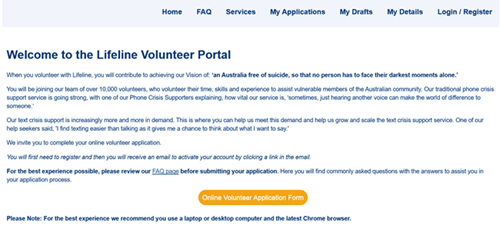 Once you have completed your application, please be sure to click the submit button on the summary page at the end of the application process. This will ensure we receive your application form and we are able to review it. If you do not click the submit button, your application will remain unsubmitted.

You can save your application and come back to it later, by clicking the save button at the top of the screen. When you login to the volunteer recruitment portal again, your application will be saved in the My Drafts section. Click on this application to continue with this application and submit this application Do not start a new application for the same volunteer role, as this creates duplicates in our system.

Please note that we do not accept police checks completed elsewhere. You will be prompted to complete your police check as part of your online application. You will find the link to our police check provider, Fit2Work, in the Police Check section. Note that the Police Check is at your own cost.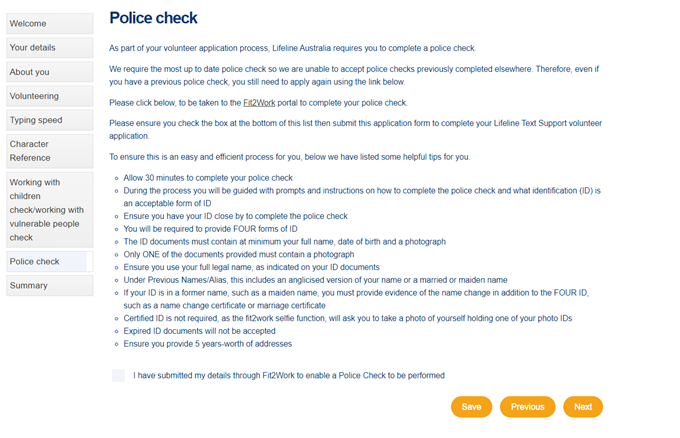 Please ensure you check your spam or junk folder, in order not to miss any vital communication from Lifeline.
When volunteering for the Lifeline Text Service, either a PC or Mac computer can be used, requiring the latest operating system available. The minimum system requirement for a Mac is macOS10.14 or later; and a free app to connect to the remote desktop, Microsoft Remote Desktop. For PC the suggested system requirement is an up-to-date version of Windows, general a computer less than 6 years old. 
It is highly recommended to have two computer monitors/screens, to run the text platform on one monitor, and on the second monitor to runs Teams, the program that we use to communicate with each other on shift. If you don't have two monitors, then having a smartphone on shift as a back-up is important so that you can keep in contact with your shift supervisor, in case you have problems with Teams. It is also good if you have a camera with your computer, so that during training and once volunteering, you are able to chat face to face with your team leader or shift supervisor.
Having a stable and reliable internet connection is very important when considering volunteering for the Lifeline Text Service. It is useful to know the upload and download speed of your internet, and this can be easily checked using any internet speed check tool.
If you have any problems with your internet, it is also possible to hotspot your phone and all programs needed will run smoothly as required.
Make a difference - Join Lifeline